Best-in-Class Bloomingdale Dumpster Rentals
Is a local Bloomingdale dumpster rental company your preferred choice for your current or upcoming project? 
There are many reasons you want to work with a local company. It could be you want to enjoy fast dumpster deliveries or a team that won't have a hard time figuring out your location in Bloomingdale, Florida. Or it could help ensure you're getting the best price. Well, Bin There Dump That is the Bloomingdale dumpster rental service provider that is available and ready to help you tackle any project, large or small. 
A dumpster container brings efficiency to the most demanding and challenging projects you've ever worked on, whether for a residential or commercial project. Join hundreds of our customers and enjoy hassle-free, low-cost, and fast delivery of roll off containers to any corner in Bloomingdale. We appreciate the time you take to learn more about our services. We take the time to ensure you have all the information you need and can get the right container for your project. With many sizes to choose from, you're sure to get the support you need when you work with us.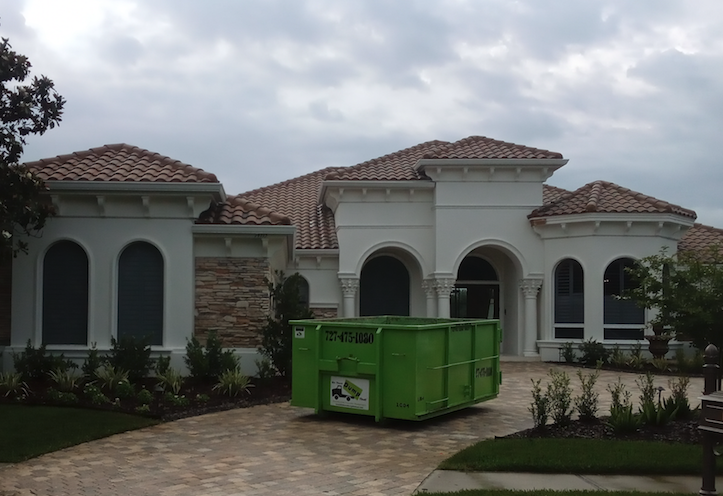 What Should You Consider Before Renting a Container?
We understand that our dumpster rental customers have questions, especially about the things to consider when renting a container. Before ordering your dumpster, it is crucial to know all about dumpster rental.
For instance, you need to understand the debris you want to dump. It might be illegal to put some debris type into a dumpster, meaning that you risk extra charges if you're unsure about acceptable garbage.
The reason behind acceptable and prohibited waste is that we need to comply with the local guidelines on solid waste disposal. If you've got toxic junk to dispose of in Bloomingdale, you can check with Hillsborough's solid waste disposal guide and collection centers within the area.
Another thing to know is that dumpster bins vary in size, even if they're all ideal for residential projects. Request an experienced dumpster provider to help you pick an ideal bin size for your project.
If you pick a smaller roll-off that can't hold all the waste will cost you more and selecting a larger container will likely cost you more. Another thing is that your contract period matters, and you should understand the rental timeframe beforehand.
Estimate when you'll need a dumpster onsite, let your provider know, and set the dates. Should you need to extend the contract dates, you can contact us, and we'll create a deal for the rental extension. Importantly, consider the bin rental pricing, and there is no stressing about surprise charges here at Bin There Dump That.
You will get a comprehensive flat-rate quote covering every service rendered, including container delivery and pick up.
Fast Bloomingdale Dumpster Rental Service
Do you have a move or just need to eliminate clutter? Perhaps you need to clean the garage? We offer unrivaled swift Bloomingdale dumpster rental services.
Hire the most experienced team and see why everyone praises our waste disposal services.
Get Answers to All Your Roll Off Container Rental Questions
As part of giving more than we take, our Bloomingdale staff is super friendly, and you won't deal with any poor customer service when working with us. We provide you with dumpster rental information when you need it. Also, we will ask you for specific information we need to customize something better that matches the size of your project. Some of the details we take include: the size of the project, rental period, delivery location, the time you need a dumpster, and the type of debris or waste. We also take care to put down protective board to ensure your driveway or other property is protected while the dumpster is on site.
Your Number One Bloomingdale Dumpster Rental Service
Bin There Dump That dumpsters are not just environmentally friendly but also a perfect vault for any project size. We are the premier Bloomingdale dumpster rental that services your way. Terms like dumpster rental, junk removal, debris removal, waste management, etc. may sound confusing. Our friendly staff will help you if you are not sure of what rental service you need for your project.
Do you want a clear direction in renting a dumpster? We are eager to show you. Call or book online today!